Indexable Tool - "refers to any cutting tool where the cutting edge consists of a separate piece of material, brazed, welded or clamped on to a separate body".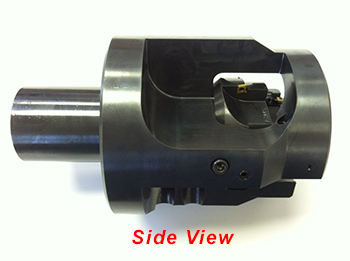 What are advantages and disadvantages to Indexable Tooling?
The advantages of a tipped tool, or Indexable tool, as it is more commonly referred to, usually outweighs the advantages of a non Indexable tool. For instance a solid carbide end mill. The reason is that the cutting area of the tool is replaceable, this allows the customer to replace the insert when it is worn, or damaged, or when the customer changes the material that is being processed. If the customer was going to be milling aluminum Vermont Indexable sales reps would generally recommend our Zirconium Nitride coating over our Titanium Nitride coating due to the higher lubricity and finish that the Zirconium Nitride coating can provide.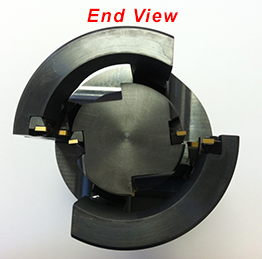 Another Advantage of Indexable tooling is that the tool can be manufactured to suit the customers' needs, whereas solid carbide cutters have strict limits to customization and therefore limiting manufactures possibilities within the shop. This customization of the tool can be a time saving and money saving advantage, allowing for more parts to be produced, and less time to be spent on jobs. Vermont Indexable Tooling has thousands of examples of our custom Indexable tools and stock Indexable tools saving time and money for companies.

Located above is our custom indexable turn/face/bore tool/ . This tool runs for 49 SECONDS and saves the customer 59 MINUTES of run time per part while replacing ALL single point operations. This one tool is saving the customer thousands of dollars in production cost, employees time, and increased capacity .
The Custom Indexable Bore/Chamfer/Face Tool at left, has a 2 MINUTE runtime and saves the company 19 MINUTES and 34 SECONDS per part. This tool is saving the customer thousands of dollars in production costs, employee time, and increased capacity.

All of our stock tools save time and money. This tool is THE ORGINAL Back Spot Facer. Vermont Indexable Tooling's standard and custom Indexable Back Spot Face / Back Counter Bore tools have been and are currently saving millions of dollars in production costs, employee time, and increased capacity worldwide by eliminating an entire operation from the set up.For over 30 years, Vermont Indexable Tooling has taken the position of leading Custom Indexable Tooling manufacturing worldwide.
Vermont Indexable Tooling does multitudes of Custom Indexable Tooling in many variations. Simply send us a part print, or sketch of the area to be machined and we will work with you in order to produce a Custom Indexable Tool for your specific application. Below are examples of custom tools built in the past:
Drill/Counter Bore Combination Tools

Custom Back Counter Bores/Spot Face

Hollow Mills

Multi Bore Tools

Core Drills

Opening Drills

Step bore tools

Custom Back Chamfer Tools

Lathe Tools

Fixed Pocket

Trepan

Combined

Operation Tools

Form Tools

Customs Inserts

Adjustable Cartridges